There's a lot to consider when planning a Yangtze River cruise. But with this simple planning guide, you'll be on your way in no time!
No.1: When do you want to go?
In cruising, timing is everything. China Discovery offers great ships sailing on Yangtze River all the year round between Chongqing and Yichang.
Usually, spring and autumn is the peak season and best time for taking a cruise. However, Yangtze cruisers could enjoy great deals on a luxury ship during the winter time (from December to February). If you choose to go in summer, you could escape the summer heat and relaxing yourselves along the way.
Find out your best time to make decision when to go.
No.2: How do you choose the cruise line that's best for you?
In 2015, there are four cruise lines sailing on Yangtze River. The classic route from Chongqing to Yichang takes about 4 days and 3 nights. And the upstream cruise route from Yichang to Chongqing takes 5 days and 4 nights.
And if you choose the relaxing way to cruise on Yangtze, you could either take downstream cruise route from Chongqing to Shanghai which takes 7 days and 6 nights, or choose the upstream cruise line from Shanghai to Chongqing which takes 9 days and 8 nights. These two routes only offered by Victoria Sophia in April, May, September and October in the year of 2015. One more thing should know, this ship stops at Wuhan city, that's to say, you could board/disembark at Wuhan port and enjoy your Wuhan Chongqing cruise or Chongqing Wuhan cruise.
No.3: What's your budget?
No matter you could to take a budget cruise, luxury cruise or super luxury cruise, at yangtze-river-cruises.com, you'll get YOURS.
To be honesty, budget cruise doesn't mean the ship star, rating, facilities, or service onboard cannot compare with other luxury ships. It means you the cruise companies offer great deals to cruisers to experience everything on Yangtze. In 2015, the budget but luxury cruises you could take are Century Sun, Century Sky, and Yangtze 1, President Prime.
If you are looking for a luxury and new cruise, options are a lot. How about the newest ships Century Paragon and its sister ship Century Legend, or President No.7, President No.8?
2015 early bird deals are offered by the only super luxury cruise Yangtze Explorer. The one-on-one VIP service onboard, the super dining, the comfortable and luxury accommodation, the well-designed itinerary, it is worth your money.
No.4: Do you have a preference of Yangtze cruise ship?
There are six big cruise companies offer many ships, like Victoria Cruises, Century Cruises, President Cruises, Yangtze Explorer, Yangtze Gold Cruises, Changjiang Cruises. If you have no ideas about the ship, you could find everything on the Yangtze Cruise Ships tables.
No.5: What sort of cabins best fits your needs?
China Discovery has a wide variety of cabins from which to choose, each including a range of amenities from flat-screen TVs and a refrigerator to a spacious closet and private bathrooms. Balcony staterooms give you added space and your own place to relax outside and enjoy the unforgettable views. Suites offer even more square footage and premiums such as a sofa bed and upgraded amenities including luxury mattress and pillows. The presidential suites are limited, usually just two on a ship. It is in comfort and style.
No.6: Are you traveling with kids, friends or family?
Traveling with family or a group of friends can be a wonderful way to escape completely. Be sure to book early for the best selection of cabins. Be sure to inquire to have your group's cabins close to one another.
For those sailing with kids, the free onboard youth and teen programs are excellent. For a family with kids cruise, you'd better take Yangtze Explorer, Century Paragon & Legend, President No.7 & No.8.
No.7: What kinds of shore excursions most interest you?
There are two kinds of shore excursions ashore – arranged shore excursions by cruise companies and optional shore excursions paid extra fee by you. Different cruise companies offer different shore excursions.
Usually the arranged ones could be Shibaozhai Pagoda, Shennv Stream, Three Gorges Dam Site. The optional shore excursions have Fengdu Ghost City, White Emperor City, and Tribe of Three Gorges. Fengdu Ghost City is on Minshan Hill, and there are a lot stairs to atop and it will be weary. You could choose to go according to physical condition. White Emperor City is recommended to choose for you'll have spectacular view about the Kui Gate of Qutang Gorge. While, the upstream cruise offers optional excursion to Tribe of Three Gorges where you could immerse yourselves to the natural scenery and ethnic customs.
No.8: Do you need transfer service between airport/railway station and cruise port?
Have already decided to book a cruise? Do you need private transfer? We suggest you do it.
If you go to Chongqing for your downstream cruise, you'll head to Chongqing Chaotianmen Port. The cruise port is wide and big, and there are many piers, it is hard to find the right one in a short time. If you use the private transfer service, our driver and guide will take you to the right dock.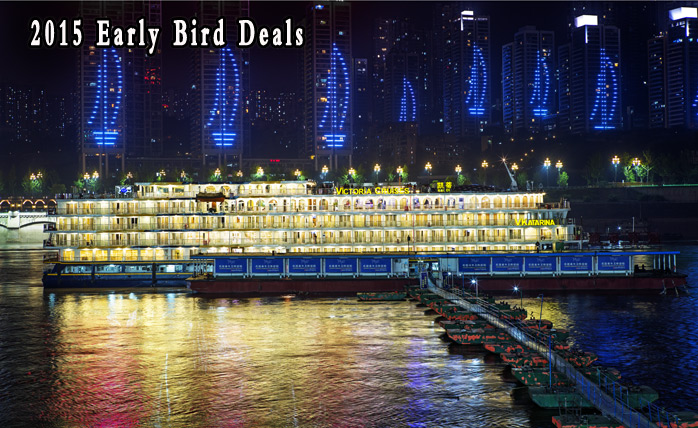 If you go to Yichang for your upstream cruise, you'll head to Yichang port. The port is remote from downtown and the pier is small, it is not easy to reach there. The taxi is not running good in Yichang, you'll be charged more than you should pay. The private transfer will make thing easy and never trouble you during your transfer.
Now, the eight steps is done, you'll almost finish your dream cruise and tell your requirements and travel information to your cruise agents. Then, wait and sail!