On 15th November of last year (2018), thanks to the support of my company, I went to Tibet for a business trip and research this late autumn with another 2 colleagues of mine.
Day 1  Nyingchi Arrival
Firstly, we fly to Nyingchi from Chengdu in the early morning, just before we land in Nyingchi, watch out from the window of the flight, we got a glimpse of this mysterious land, dotted with some rivers and streams, it's like a piece of oil painting, who is walking forward to us generally.
All passengers cheer up shouting "wow!" excitedly when the rolling snow-covered peaks of the snow mountains come into our sight. Up above we take a bird's eye view of Namche Barwa peak, which is of 7756m as the highest peak in the Himalayas. It is located within Motuo county, in Tibetan, Namche Barwa means "he stone falling from the world", and it says that it is like a shining long thatch piercing the blue sky.
Yeah! Finally we are here, on the plane above the land longing for a long long time – Nyingchi, Eastern Swizerland and Jiannan of Tibet.
Upon our arrival, we are welcomed by Nyingchi's bright sunshine. Although it's already late autumn now in China, I feel warm and refreshed after the early flight journey. It's said that Nyingchi is well-known for its amazing natural landscapes, and still there are 2 most appealing highlights – one is the peach flowers in spring, the other is its views in autumn. When autumn, thick forest turns yellow and golden, together with the beautiful lake, attractive valley, majestic mountains, several sheep and yaks here and there, we seems to be in the fairy tale kingdom. This time, although we get there a little late in the autumn, we are still amazed by its beauty.
Day 2  Nyingchi
High lights: King Cypress & Lulang Forest
After a good rest, we start our Tibet tour starting from Nyingchi on the next day. Firstly, we started our tour from the nearest one—the most famous and magical tree in Nyingchi – the King Cypress which is 50 meters tall but more than 2,500 years old.
It is regarded scared trees by local Tibetan ethnic groups, in their festival, they will come here and go around the trees to pray for health and happiness.
Next we plan to proceed to Lulang Forest, it is a typical plateau mountain meadow featuring stunning alpine scenery. However, on the way, we are informed that the road to the forest is blocked because of snowing. So next time, you'd better come here earlier when it's warmer, better at the beginning of November. It's a big pity for our Tibet tour, another one is later we also missed Namtso Lake because of the same reason.
If we can make it to get to Lulang Forest this time, we can also have chance to see the Namjagbarwa Peak, which is the 15th highest peak in the world having an altitude of 7782 merters above the sea level. It is said that only the lucky person can see it, for it is always sheltered by dense fog. So in summer and autumn are better seasons too see its mysterious face.
The famous tourist sites in Nyingchi are only a few, however, you must know that actually, the beauty of Nyingchi is actually on the way. When we were transferred from Airport to the hotel of Nyingchi, we felt we set feet on a wonderland.
Day 3  Nyingchi – Lhasa
Highlights: Kading Valley , Basum-tso Lake
Today we start from Nyingchi to Lhasa, about 410km, 6 hours' drive. On the way we will visit two sights, Kading Valley and Basum-tso Lake.
Firstly, after not long drive, we come to the first site, Kading Valley, about 24km from Nyingchi. In Tibetan language, "Kading" means a fairyland on earth. For me, it is like a geology park, it is a typical canyon landform. And it combines fun and enjoyment together. It's fun for it's various shaped mountains and stones. Such as Buddha and goddess, butter lamp, Tibetan "six-character mantra" Buddha characters and so on. We guided by the tour guide and found these shaped cliffs and stones one by one. All are amazed by the nature's great work, while breathe the fresh air, really relaxed and comfortable.
Next we come to another wonder of Nyingchi, Basum-tso Lake is no wonder an essence, which is on the way from Nyingchi to Lhasa.
In Tibetan language, Baksum means 'green water'. The water is green because it is so pure and clean that the surrounding green trees are reflected in its surface. The water is so crystal-clear that fish can be seen even deep below the surface. Around Pagsum lake, there are both snow-capped mountains and mountains dotted with evergreen trees. In spring, vigorously blooming flowers are mirrored in the lake surface, forming a splendid picture. When autumn comes, flaming maples leaves light the whole mountain and reflect on the water, making it a sea of red color. Now although it's a little late of autumn, the lake is also surprised us a lot.
After the lake tour, we continue to drive to Lhasa, the views on the way is also amazing, snow-capped mountain, red leaves, small streams under the blue sky.
Day 4  Lhasa
High lights: Potala Palace, Zongjiao Lukang Park, Yaowang Mountain, Norbulingka, Jokhang Temple, Barkhor Street, Canggu Temple.
Today, we start our tour in Lhasa, first is the most important one site – Potala Palace , which is the highest ancient palace in the world. It's not the same as I imagined like a museum of Tibetan culture and history. Actually, it's more like a kingdom, it's lively, sacred and mysterious. No wonder a destination of the pilgrims.
Legend has it that in the 7th century, to greet his bride Princess Wen Cheng of the Tang Dynasty of China, the Tibet King Songtsen Gampo built a 9-storey palace with a thousand rooms up on the Red Hill and named it Potala. The palace was mainly made of stones and woods, and decorated with special local willow branches called Baima Grass. Later, with the collapse of the Songtsen Gampo Dynasty, the ancient palace was almost destroyed in wars. What we see at present is the architecture of the Qing Dynasty and the continuous expanding work outcome since the 17th century.
The main building of Potala Palace is the Red Palace and White Palace, white in Tibet is the symbol of right, while red is symbol of religion. So you can seldom see the Tibetan people wear red and white, for it's sacred color in Tibet, not everyone can wear.
Inside the Potala Palace, it's not allowed to take photos, so we can only take photos of the outside structure and the outline of the Lhasa city. Since it is built up on the mountain, so when you are on the palace, you can have a good view of the whole city. For Potala Palace, you can be here to appreciate architecture, precious treasures, Tibetan history, culture and religion. Also on the palace, we can get a bird's-eye view of the Zongjiao Lukang park behind Potala Palace. Here you can also meet some cute animals taking sunbathing, time seems walk slowly even stops here.
Walk down the mountain, stepping out of the palace, we can go to the park – Zongjiao Lukang we mentioned just now. It's a lovely small park behind Potala Palace, local people likes to take a walk and rest here, and dance to celebrate the festival. It's also a good different site to take photo of the palace, you can photo the reflection of the palace. I really like this place.
Opposite to Potala Palace, there's another good site to photography it. It's Yaowang mountain.
Followed proceed to Norbulingka, meaning 'Treasure Park' in Tibetan, which is situated in the western suburb of Lhasa City, about 1 km (about 0.6 mile) southwest of Potala Palace. The garden covers an area of 360,000 square meters. It is the biggest man-made garden in Tibet Autonomous Region. Later it was used as the Summer Palace Lamas, where they solved the political problems and held festive celebrations. After a series of expansions and renovations, the appearance was improved with potrangs, pavilions, gardens and woods. It has now been turned into a park open to the public.
Now in the late of autumn, it is a little desolate, and it's said more beautiful in Spring and in summer, local people likes to take picnic here in summer. And some local young people likes to take wedding photos here.
For our time is very limited, so we proceed to next place–the Jokhang Temple, which was built on the former site of a lake. According to the legend, the lake site was chosen after many failed attempts to build a temple in the region. Prior to this, every time a monastery was built, it would collapse. Confused by this phenomenon, Princess Bhrikuti turned to Wen Cheng for help. Being a learned woman, Wen Cheng told the Princess that the geography of Tibet was very much like a hag, with the lake at the heart. In order to build the monastery, Wen Cheng advised they must demolish the hag by filling and leveling the lake using 1,000 goats to carry soil from a mountain far away. When the construction work was done, it was called Ra-Sa-Vphrul-Snang ('ra' meaning goat and 'sa' meaning earth in Tibetan) to commemorate those goats.
Whether the legend is true or not, the Jokhang Temple brought Buddhism into this land and became an inseparable part of Tibetan history and culture. The city of Ra-Sa grew around the temple and over time, become known as Lhasa, a holy land. So actually, Jokhang Temple is regarded the most important religious place for local Tibetan people, even more important than Potala Palace. The sight of many people preying before the Jokhang Temple is really spectacular. Every day, local people and people come from far away will come here to prey. Here you can strongly feel that religion is part of Tibetan people, and deeply in their blood.
This temple is also known as the "house of Buddha" because it keeps the precious Jowo Rinpoche, the life-sized (5 foot/1.5m) image of the Shakyamuni at the age of 12.
Our last site for today's exploration is Barkhor Street. Located in the old area of Lhasa City, Tibet, Barkhor Street is a very ancient round street surrounding the Jokhang Temple and the locals are always proud of it. As a symbol of Lhasa, it is also a must-see place for visitors.
It's said that in 647, the first Tibetan King Songtsen Gampo built the Jokhang Temple. Due to its magnificence, it quickly attracted thousands of Buddhist pilgrims. As a result, a trodden path appeared. That is the origin of Barkhor Street. Today even still many pilgrims hold the prayer wheels to walk clockwise there from dawn to dark.
Varied shops stand on its both sides and thousands of floating stands are on every corner. We can wander on the street and let it leads you to every corner of local people's life.
And accidently, you may meet this place—Canggu Temple. It is a Gelugpa temple in Tibetan Buddhism. It is also the only nun temple in Lhasa. The temple enjoys a high reputation in the Tibetan Buddhism community. Num temple in Tibet is much fewer than monk temple, so have a visit here is a little special. And I find this place is cute and beautiful. It's really a full day for us, we should go many tourist sites in Nyingchi, Lhasa and Shigatse, so our planned itinerary is a little rush. You'd better omit some place in short time or prolong your stay a little. For you will feel more tired in this plateau with higher altitude, so make your itinerary a little relaxed, or maybe you will get a little headache, also called high altitude sickness.
Day 5  Lhasa
Highlights: Drepung Monastery, Sera Monastery
Today is the second day of our Lhasa tour, today we will go to another 2 famous important temple of Lhasa – the Drepung Monastery and Sera Monastery. In the morning, I feel a little dry, now I know that unlike Nyingchi, Lhasa is much drier, so you can always find humidifier in your hotel rooms.
After some preparation, we continue our tour in Lhasa. First we head to Drepung Monastery, which is sated at the foot of the Mountain Gambo Utse, 5 kilometers (3.1 miles) from the western suburb of Lhasa, the Drepung Monastery is known as the most important monastery of Gelugpa in Tibetan Buddhism. It is considered one of the 'Three Great Monasteries' (the other two are the Ganden Monastery and the Sera Monastery). Covering an area of 250,000 square meters (299,007 square yards), it held 7,700 monks in total.
On the day of the "Snowton Festival" on June 30th of the Tibetan calendar, the Texan Temple was the center of the exhibition, and the giant Buddha image Thangka painting was exhibited in the morning, followed by the Tibetan opera performance, which was a fun festival.
Followed is Sera Monastery, which is located at the foot of Tatipu Hill in the northern suburb of Lhasa City. The monastery was named Sera which means wild rose in the Tibetan language, because the hill behind it was covered with wild roses in bloom when it was built. Although we've seen several monastery, you never want to miss the Debating of Buddhist Doctrines, the Gelugpa or Yellow Hat Sect of Tibetan Buddhism studies Buddhist doctrines using a step-by-step process. As a part of their study, lamas must participate in debates to further their comprehension and proceed to more advanced levels of study.
The debating traditions in the Sera Monastery are unique among the three famous monasteries in Lhasa. Lamas usually have debates in the special debating field from 3 p.m., Monday to Friday. The debate usually lasts about one hour and a half. It may be conducted on Saturday occasionally because of the ritual ceremony at the same day. For the bad weather or religious holidays, the debate will be unavailable sometime in winter. In a battle of words, they supplement their efforts by using a variety of gestures including clapping their hands, pushing their partners for an answer, or plucking their prayer beads to win the virtue of the Buddha. For a clear view of this unique event, an early arrival is recommended.
Although we don't understand their "language" at all, we were infected by their warm atmosphere. There are many audience standing around to attend this "meeting". I even feel the trees here are wiser for they are always listening and thinking these Buddhism wisdom.
Day 6  Lhasa-Gyangtse-Shigatse
Highlights: Yamdrok Lake, Karola Glacier, Palcho Monastery
On this day, we see goodbye to Lhasa and start to Shigatse, which is about 8 hours' drive from Lhasa.
The scenery on the way is a little different from the way from Nyingchi to Lhasa, the planting is becoming rare and you get a broader field of vision, but please note that there are more curved roads and the altitude is a little higher, so you may feel a little uncomfortable. For me, it's worthwhile when the Yamdrok Lake comes into my sight.
Before we arrive in Yamdrok lake, we are rewarded another little gift, another specialty of the Qingzang Plateau, —the giant cute Tibetan Mastiff. You can't imagine they are so friendly and clever, they can even shake hands with you and kiss you if you are brave enough to interact with them.
Finally we arrive in the holy Yamdrok Lake, which lies to the south of Yarlong Tsangpo River in the Shannan Region of Tibet. It is one of three holy lakes in Tibet. As the largest freshwater lake at the south foot of the Himalayas with an area of about 638 square kilometers (about 246 square miles), it is in a length of 130 kilometers (about 81 miles) and a width of 70 kilometers (about 43 miles). So you can see that it is like a necklace of the snow mountain.
Lying under the sunshine, the peaceful water seems like a bright mirror. The reflection of sunshine in different depths lends the lake gorgeous and mysterious colors. Embraced by the uninterrupted snow-capped mountains and lying under the clear blue sky, the Yamdrok Yumtso Lake appears very holy and evokes solemnity.
Yamdrok Yumtso Lake is also said to be the female Guardian of Buddhism in Tibet. People here believe that it will bless and protect them. Every year, many devotional followers in Tibet or from other places would come here for pilgrimage. Some of them start on foot and give one prostration every three steps even from hundreds of kilometers away. All of these visitors bring much mystery and dignity to the charming holy Yamdrok Yumtso Lake.
Keeping driving not so far from Yamdrok Lake, you will see the imposing Karola Glacier (altitude: 5,045m) towering aloft on the right side of the road.
Continue our way to Shigatse, finally we come to the last tourist site today, the Palcho Monastery, lying about 230 kilometers (143 miles) south of Lhasa and 100 kilometers (62 miles) east of Shigatse, it is a monastery having the characteristics of Han, Tibetan and Nepali architecture.
Palcho Monastery enjoys a high status in Tibet Buddhism history because it houses three sects – Sakyapa, Kadampa and Gelugpa together.
Day 7  Shigatse-Lhasa
Highlights: Tashilhunpo Monastery
Today we prepare to return back to Lhasa. Before that, we go to the last important tourist site – Tashilhunpo Monastery, which is one of the Six Big Monasteries of Gelugpa in Tibet. Also called the Heap of Glory, it is located at the foot of Drolmari (Tara's Mountain), Shigatse. Founded by the First Dailai Lama in 1447, the monastery's structure was expanded by the Fourth and successive Panchen Lamas.
Covering an area of nearly 300,000 square meters (3,229,279 sq. ft.), the main structures found here are the Maitreya Chapel, the Panchen Lama's Palace and the Kelsang Temple. Tashilhunpo is the seat of the Panchen Lama since the Fourth Panchen Lama took charge in Tashilhunpo Monastery, and there are now nearly 800 lamas.
Besides the grand palace and gigantic statues, the Tashilhunpo Monastery also treasures characteristic wall paintings. Because of the variety of shapes, resplendent colors and exquisite painting, the murals are considered to be another masterpiece of Buddhist art.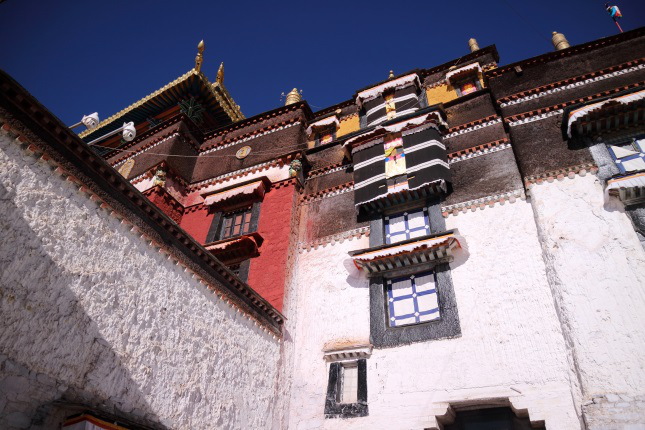 Among all of the monasteries we went, personally I like this one most for it's so beautiful, peaceful and spectacular.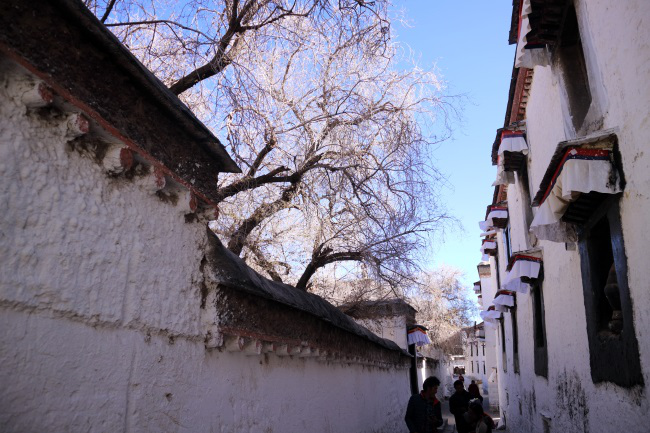 Day 8  Lhasa Departure
Our wonderful Tibet tour comes to an end, I already looks forward to next time come back again, there are still lots of places we won't go and lots of wonders waiting for us in this sacred mysterious lands. See you next time.
If you are interested in more tours about Tibet, you can head to our Tibet Tour with different experiences. Feel free to select yours to explore the beauty of Tibet!
>> 4 Days Holy City Lhasa Private Tour – Heart of Tibet
>> 8 Days Lhasa Mount Everest Private Tour ( Lhasa / Shigatse / Everest)
>> 10 Days Chengdu Lhasa Everest Overland Tour
Want to know more about the experienced travel expert Wing's trip? You could just contact her directly or continue to read more about her travelogues.