The best time to visit Jiuzhaigou is from August to October, but from my personal experience, I can tell you that Jiuzhaigou is charming whenever you visit it! ~
It was January when I visit Jiuzhaigou, knowing that Jiuzhaigou would be covered by snow during that time, I prepared down jackets, scarf and gloves before our Jiuzhaigou tour (which turned out to be a right choice as you would lose lots of fun suppose you couldn't play with snow there).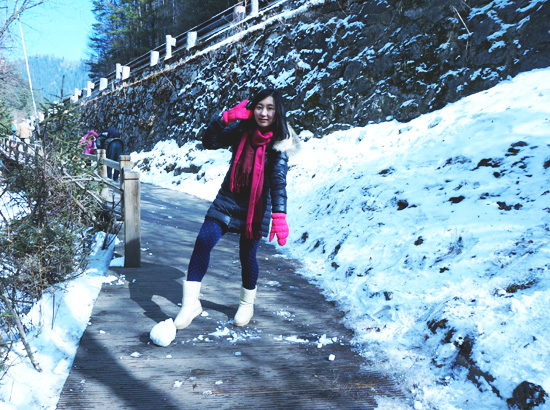 I went there with a couple of friends and we took a private car instead of taking a flight from Chengdu. To ensure that we have enough time to visit Mounigou Valley, we took an early departure in the morning (at around 6:30am). With air-conditioner in the car, the temperature in the car was just suitable for taking a nap. During the tour, our private guide gave us a brief introduction of Jiuzhaigou and mentioned the features there. As lots of goods and materials in Jiuzhaigou and Huanglong are transported from outside (especially in winter), dishes there might be a little limited and are mainly made of Chinese cabbages, Beef and mutton. Clean drinking water is also scarce in winter as frozen snow might cut off the water source. But of course, even though food there is not as rich as that in other parts of China, its fascinating natural scenery and distinct Tibetan culture is something no elsewhere could provide.
Along the way to Jiuzhaigou, we passed Yingxiu County, which is located in the southern part of Wenchaun. The scar left by the terrifying Wenchuan earthquake is still there, reminding us the terrible disaster but also telling us that however horrible natural disasters can be, our concerted efforts can find our way out and rebuild our homeland.
After a long trip on the road, we arrived our first destination—Mounigou Valley.Forests, hot springs and colorful lakes, etc. are the highlights there. But as snow was the main character in January, the chief pleasures we had there was playing in the snow and enjoying the joy of walking through the snow covered woods.
After our visit to Mounigou Valley, we went to a local Tibetan family to have our supper. The hosts there are really enthusiastic! They welcomed us with a yellow "hada" and teach us the correct way to pronounce "Tashi Delek". Typical dishes like beef, mutton, vegetables, highland barley wine and other distinctive local food are served during the buffet dinner. And characteristic local dances and songs are also performed by the beautiful daughters/ cool sons of the hosts. My friend and I danced together with them as no one could resist the urge of being part of the "party". The one thing I have to say is, food there might not to all people's taste but the opportunity to know more about their lives and to dance with their enthusiasm is indeed rare and the experience is indeed unforgettable~
Our night was spent at Qian He International Hotel. As supper at the local Tibetan family doesn't really meet everyone's appetite, we booked another supper at the hotel. Indeed dishes there are more delicious, and from an aunt taking the tour together with us, we learned how lucky we are to stay in hotels with such good conditions. It might be hard for you to imagine, but you couldn't be able to take bath or have these kind of delicious food even about 10 years back from now.
The second day is a full day for Jiuzhaigou National Park. Sightseeing buses are available in the park. They will stop at each scenic spot, and visitors can get off at the scenic spots they interested in. Pictures and explanations about Jiuzhaigou National Park are presented by a display screen on the sightseeing buses. Even on the buses, we can still see the flowing beauty of natural heritage outside of the window. The stunning lakes, springs and waterfalls there would help you understand the reason why famous Tibetan singer Rongzhong Erjia would call it "the paradise on earth".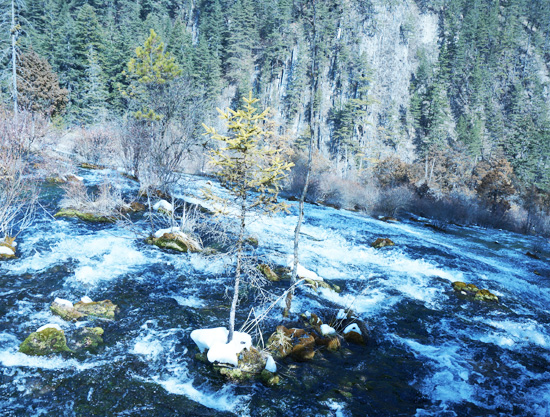 After our visit to Jiuzhaigou National Park, we went to the Theater of Tibetan Mystery and enjoyed an exceedingly excellent show presented by the local Tibetans. The moving songs and music, the enchanting dances and the outstanding performances, none failed me~
On the last day of the tour, we went to a local Tibetan village (sorry I've forgot the name of the village, yet as a typical southerner, I would never forget the experience there). I grow up at a place where snow is rarely seen, and so you would know that the lowest temperature in winter at my hometown is usually no lower than 0℃. Yet just one minute after I got off our private car and was about to take pictures of the Tibetan village, my fingers were frozen stiff, and I couldn't help but to grab out my gloves. Guess -20℃ is indeed a challenge for my "inexperienced" fingers. Indeed it's really chilly out there, but the Tibetans there have long been accustomed to the weather there. They have evolved strong body and have worked out their own way to against the cold weather there. According to a local resident, silver is one of the key to protect them from various indispositions. No wonder why each family has so many silver bracelets, necklaces, tablewares and some other utensils made of silver.
The village is the last place we visit in Jiuzhaigou. The three days was indeed flying and our Jiuzhigou tour ended in a blink of an eye. Yet glad that cameras can help us record the amazing scenery there, and the photos can help me revisit Jiuzhaigou whenever I want~
>> 3 Days Jiuzhaigou & Mounigou Winter Tour
>> 4 Days Classic Jiuzhaigou Tour from Chengdu
If you are interested in more Jiuzhaigou Tours – either by flight or by bus, you can head to our Jiuzhaigou Tours with different experiences. Feel free to select yours to explore the beauty of Jiuzhaigou!
Want to know more about the experienced travel expert Bertina's Jiuzhaigou trip? You could just contact her directly or continue to read more about her travelogue.