In Hangzhou, there are many ways of touring the lakeshores for the natural beauty of the West Lake area. One can choose from hiking, riding a bike, rowing a boat or finding a vantage point on top of one of the lakeside hills to relish the lake vista.
Guide 1: Cycling
(1) Recommended Cycling Routes
Round the Lake: Yang Causeway -> Beishan Road/Bai Causeway -> Nanshan Road
Tour the Greater Lake Area: Hupao Road -> Manjuelong Road ->Liuhe Pagoda -> Jiuxi Scenic Area ->Meijiawu
(2) Bike Rental
Bike Rental Service station are across the city. Card application can be made at the Longxiangqiao Bus Terminal.
(3) Tips
Pay RMB 200 as a deposit and RMB 100 as the down payment for an IC card on the presentation of ID or other valid documentations that allows you to rent a bike for free for one hour.
Payment required for extra time of using the bike: RMB 1/hour within 1-2 hours, RMB 2/hour within 2-3 hours, and RMB 3/hour for use above an extra of three hours.
Guide 2: Cruising the West Lake
A boat trip is an ideal way for a taste of the beauty of the famous "three inner islands of the West Lake". Various types of boats (Gaily-painted pleasure boat, Leisure Boat, Row by yourself) catering to different budgets and needs are available all along the lake shore for hire, from heavy wooden rowboats, small junks propelled by the owners' single oar, to fullyu-fledged ferries.
Guide 3: Electric Sightseeing Golf Cart Service
Electric sightseeing golf carts travel the circumference of the lake and cost RMB 40 for a full round-the-lake journey. Just like a taxi, they need to be hailed. Section-by-section charging start from RMB 10 per person.
Guide 4: Hill-Climbing
The hill landscape of the West Lake, featuring the Wu Hill, Fenghuang Mountain, Yuhuang Mountain, Nanping Hill and the South Peak, is what the broader sense of the West Lake scenery is based on and an integral part of the lake view. The northern skyline of the West Lake is defined by the solitary Hillm Geling, Jiangjun Hill, Lingfeng Hill, the North Peak and Peak Flying from Afar. The lake and its surrounding cannot be separated. The lake lies serenely in the arms of beautifully undulating hills on three sides, creating a matchless merge that only nature can achieve. The multifaceted beauty of the waters and hills is an undisputable source of aesthetic surprises.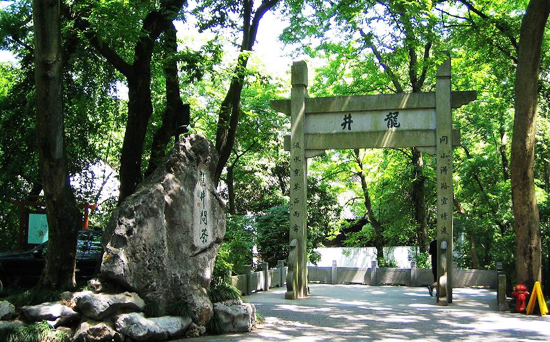 Selected Climbing Routes:
China Tea Museum -> Top Eight Scenic Spots at Longjing -> Ask for Tea at Longjing -> Longjing Village -> Shifeng -> Sanfencha ->Wenbi Peak -> Meijiawu
Wushan Square -> Wu Hill -> Yunju Hill -> Fenghuang Mountain -> Shengguo Temple -> Jiangtai Hill -> Yuhuang Hill
Lingyin -> North Peak -> Beauty Peak -> Longmen Hill -> China Buddhism College -> Tianzhu Temples