No matter whether you are planning to travel in China or you are in China now, money issue is always frequent asked question by many travelers. In order to help you get everything ready and enjoy a worry-free vacation, we here have listed all the detailed Chinese Currency information.
Chinese Money: Renminbi
The Renminbi (人民币), also Yuan, is the official currency of China. When you tour mainland China, but not in Hong Kong, Taiwan or Macau, you could use Renminbi. It is issued by the People's Bank of China, the monetary authority of China. Do you know the meaning of Renminbi? It standards for "people's currency".
The basic unit of Chinese money is the Yuan (also known as "Kuai"). The Yuan comes in paper notes of 1, 5, 10, 20, 50 and 100 Yuan notes, and 1 Yuan coins. While, 1 Yuan equals 10 Jiao (or mao).
Renminbi Exchange in China: Easy & Safe
Where can travelers exchange currency?
Foreign currency and travelers' cheques can be changed at border crossings, international airports (like Beijing Capital Airport), branches of the Bank of China, tourist hotels and some large department stores…
What kinds of foreign currency can be changed in China?
Australian, Canadian, US, UK, Hong Kong and Japanese currencies and the euro can be changed in China. While, US dollars are still the easiest to change.
What is the Renminbi exchange rates in 2013?
The official rate is given almost everywhere and the exchange charge is standardised, so there is little need to shop around for the best deal. See the exchange rate table on the inside front cover and consult a newspaper for the current rate of exchange.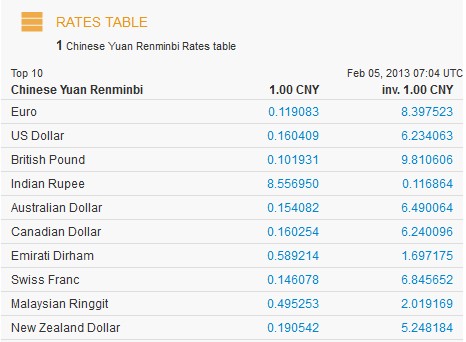 ATMs
Visitors could see ATMs everywhere. In the Bank of China and the Industrial and Commercial Bank of China, you could use Visa, Cirrus, MasterCard, Maestro and American Express to withdraw cash. The network usually applies to sizable towns and cities. If you plan to stay in China for a long period, it is advisable to open an account at a bank like the Bank of China with a nationwide network of ATMs.
Credit Cards
Credit cards are only accepted at most hotels and some tourist shops and department stores. Expect to pay in cash.
Cash
Cash is king in China. Always carry some mall denomination cash (5,10,20 Yuan) because if you use larger notes there is a small risk that you will be given counterfeit notes in your change at some of the markets or local stalls.
Coins
Coins in China are accepted. There 1 Yuan Coin, 1 Jiao coin and 5 Jiao coin.
For more money question in China, please feel free to contact our travel experts who are here ready to help you.