Jiuzhaigou National Park is always one beautiful place where I plan to go these years. Finally I have time to do that this National Day Holiday. Though it will be surely very crowded and even meet serious traffic jam, I still don't want to miss this chance.
Day 1 Chengdu-Ruoergai Grassland-Jiuzhaigou
To avoid the serious traffic jam, we got up at around 5:00am this morning. After a short fresh up, we take one taxi to the place to meet other members. We start to leave at around 6:30am in the morning.
We will stop for 2-3 times on the way where people could relax a little bit and also go to the washroom.
In the late afternoon, we have arrived at Ruoergai Grassland-the Galitai section. On the way, you will have the chance to see many yaks on the grassland. Though it is autumn time and the grass isn't green any more, it is still nice to see.
In the below picture, you will find many yaks on the grassland.
There are also many beautiful blue flowers on the grass. They're so lovely.
After a tiring driving for more than 12 hours today and a nice dinner (Tibetan Style Hotpot), we have finally arrived in our hotel.
Day 2 Jiuzhaigou National Park
Today we will do our own trip inside Jiuzhaigou National Park by ourselves. We have followed a map and do the trip one by one.
Consisting of three valleys – Rize Valley, Shuzheng Valley and Zechawa Valley, Jiuzhaigou gets its name from having Nine Tibetan Fortified Villages, and features in awesome sceneries of multi-level waterfalls, crystal waters and colorful lakes.
We take the sightseeing bus from the entrance gate to Arrow Bamboo Lake. The wetland there is beautiful and the highlight is the waterfall which is very beautiful under the sunshine.
We continue to walk to the Panda Lake. Obviously it is more beautiful and attractive.
After some time's walking, we have arrives at the Five-Flower Lake. I have to say I am very surprised to see the water. It's so beautiful!  On the way, you will even find the leaves with blue sky are very beautiful too.
The next stop will be the Peacock River. The water is so colorful and clean. This is definitely the most amazing water I have ever seen. Please forgive my poor photogrash.
On the way to Shuzhen Valley, we have seen many falls and also some wetland.
Our last stop today is the Zezawagou Valley. We only went to the Multi-color Lake. To be frank, after seeing so many colorful and beautiful lakes, I don't have much interest to go there.  However, it is absolutely worth seeing. It is a small lake with a different color compared to other lakes.
The last stop today is the Long Lake which is the biggest lake in Jiuzhaigou National Park. When we get there, it is around 6:00pm. The water is clean and this lake is very normal compared to others.
There are still too many nice sightseeing in Jiuzhaigou National Park waiting for people to find out.
Day 3 Jiuzhaigou-Huanglong National Park-Chuanzhusi
Get up early in the morning and driver for around 3 hours to Huanglong National Park.
Today the weather is a little cloudy and foggy. It is kind of cold in the morning. Because it is during the National Day Holiday, we have to wait in line for around 1 hour to take the cable cars. The cable car will only take you few minutes. After that, we have to walk for around 1 hour till we see the below view. It is just like the Shangri-La Park which is so quiet and peaceful.
And then keep on walking for around 20 minutes, we arrives at Wucai Lake (Five-Color Ponds). Because of the fog, it is not very clear. You will also fine the Huanglong Temple.  I have to say the beautiful sightseeing are on the way down the park.
After that, we start to walk down. On the way, there are many beautiful places to see, like the colorful trees.
Keep on walking, we have passed some water flow, colorful lakes and also waterfalls. You will find the below color pond is definitely different from the one in JIuzhaigou National Park.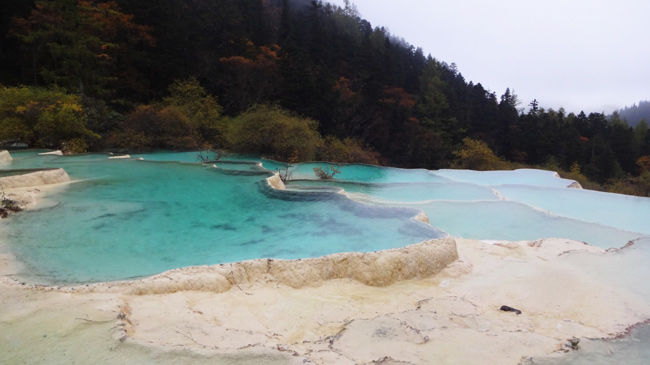 Vast yellow travertine landforms exist in the valley, and look like a yellow dragon. This is how the valley gained the name as Huanglong (Yellow Dragon). The travertine scenery was created by the thousands years of geological evolution, including glacial revolution, terrine movement, chemical reaction, climate changing, etc.
All the hiking on the mountain takes around 3.5 hours. We have gotten down the park.
Day 4 Chuanzhusi-Mao County-Chengdu
Drive back to Chengdu and on the way, stop in Mao County to visit the Qiang Old Town before drive back to Chengdu. This building is built after the earthquake in 2008. If you're interested in the history and culture of Qiang minority, this is a good place to go too.
Our 4 days' tour finished today and we have enjoyed the sightseeing a lot. The traffic situation is better than I thought too. Hope this blog will help you to organize your trip to Jiuzhaigou National Park.
Travel with Wonder: recommended similar trips from Chengdu to Jiuzhaigou
>> 4 Days Classic Jiuzhaigou Tour from Chengdu
>> 5 Days Classic Jiuzhaigou & Chengdu Tour
>> 4 Days Enjoyable Jiuzhaigou Walking Tour
If you are interested in more Jiuzhaigou Tours – either by flight or by bus, you can head to our Jiuzhaigou Tours with different experiences. Feel free to select yours to explore the beauty of Jiuzhaigou!
Want to know more about the experienced travel expert Wonder's Jiuzhaigou trip? You could just contact him directly or continue to read more about his travelogue.