I was busying for work and life as most people in modern metropolis. I try to against this one-way path and seek a rural utopia. When my annual winter holiday was coming, Huangshan was chosen.
Huangshan is not just about hiking the heights and wading through waves, but also about finding peaceful in ancient villages. 
Huangshan has a vast of well-preserved ancient villages, mostly in She County (歙县) and Yi County (黟县).Famous Hongcun, Xidi, and many other unknown Lucun, Nanping, Guanlu…. all of them were built in Ming (1368-1644) and Qing (1644-1911) dynasties in typical Hui-style: white walls, black tiles, standing by the water and elegantly mirrored in it.
Let me bring to you explores these beautiful ancient villages.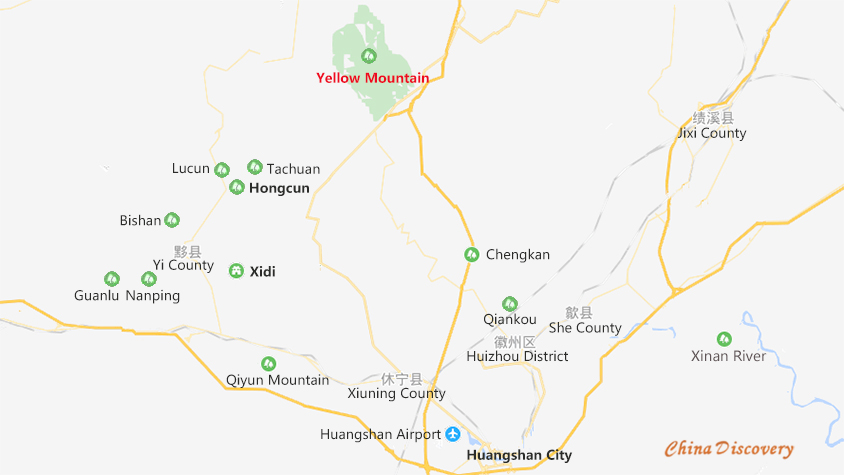 First stop: Hongcun
Hongcun, the ancient village in Chinese paintings, is a best example of typical Anhui-style architecture.
It is also a UNESCO World Heritage Site and has been called "the most beautiful mountain village in China."
It was a rainy day when we drove to Hongcun. It was a rainy day when we drove to Hongcun. Rain added charms to Hongcun with romantic mist and cloud.

Your browser does not support the video tag.
The whole village was just a poetic ink wash painting with distant mountains in the mist, elegant dwellings and dotted green grasses and trees.
Water is the soul of the village. It has two pools, Nanhu Lake (South Lake) and Yue Lake (Moon Lake), the former of which is the most important part of the village and around it were the residences of those respected persons in the clan.
Photo shot by my customer Mr.LeiShu Yuan in June.
Entering the village, visitors strolling through this ancient village will discover traditional Hui-style houses, ancestral temples, academies of classical learning, stone archways, white walls and grey tiles, beautifully paned windows, projecting horse-head walls, and stone slab bridge.
Your browser does not support the video tag.
South Lake Academy (南胡书院)
Also called Yiwen Private School with an area of 6600 square meters. It was built in Jiaqing era of Qing Dynasty (1814).
Chengzhi Hall (承志堂)
Built in 1855, it was the residence of Wang Dinggui, a wealthy salt merchant in the Qing dynasty. The whole building is in wooden structure. Wooden beams and wall panels are decorated with intricate carvings of different themes, such as natural scenery, Chinese mythology or ordinary life scenes from the Qing dynasty. Many of them are gilded in gold.
Night View of Hongcun
Second stop: Xidi
Xidi Ancient Village, together with Hongcun, was listed as World Heritage Site in 2000.
It is the perfect place for visitors to see typical folk houses where residents have lived as they have for centuries. It gives visitors the rare opportunity to explore China's ancient culture, and arts.
At the entrance of the village, a magnificent memorial archway, built in honor of a celebrated official in mid-Ming Dynasty, draws attention.
The peaceful daily life of people in Xidi Village. The village streets and lanes with their original style remain as they have done for centuries.
It is very common to see a yard in the houses of Xidi, trees, flowers and bonsai are finely arranged to make the yard chic and beautiful.
Third stop: Lucun
Want to discover serene and less commercial ancient village in Huangshan? Then, Lucun Village is a good choice.This ancient, sleepy little village is within walking distance from  Hongcun.It has yet to be fully commercialized, only attracting the occasional curious visitors who seek out authentic ancient villages, or the eco-tourists who want to experience living in a real farm house, without frills of modern facilities.
To enter the village, visitors will walk across a vast green or golden field, then pass through giant trees standing at the gate.
There is large number of exquisite carved woods left in Lucun Village.
Forth stop: Nanping
Nanping Village is an old village featuring in many historical and cultural sites. It has attracted several directors to frame there.  Many of the scenes in the popular movies Ju Dou (the first Chinese film that was nominated for best foreign language film in Oscar.) and Crouching Tiger, Hidden Dragon (The movie won four Oscars at the 73rd annual Academy Awards. It is also the first Chinese movie that won Oscar) were filmed.
The most distinctive buildings in the village should be the ancestral temples complex. Along the two-hundred-meter central axis in the village, there are eight ancient ancestral halls in different size, which is quite strange, as it is hard to find that there are so many ancestral halls in such a small place. So it is also known as "The Museum of Ancient Ancestral Hall in China". There are about 1000 residents in the villages so far.
Ye Family's Ancestral Hall (Xuzhi Hall)80% of the shooting of the film Ju Dou
There are also many featured activities
Batik Workshop
Fifth stop: Pingshan
Between Xidi and Hongcun, Xidi and Hongcun is too famous. covering up the beauty of this mountain village, and thus leaving a sense of tranquility and simplicity.. There are also more than ten unique stone bridges across the river, which constitute the unique charm of the "Little Bridge, Running Stream, and Households" of Jiangnan Water Village.
If you don't want to face the hustle and bustle of tourists, it's better to spend an afternoon here and enjoy the true "small bridge, the idyllic family".
It was so fun to meander through the village, discovering all kinds of old ways of life there, people washing their clothes or chicken by the canals, elders drying vegetables by the roadsides – the picturesque setting just takes you back at least a few hundred years…
Sixth stop:   Chengkan Ancient Village
Chengkan, a famous old and mysterious Fengshui Village in Huizou, is notable for its special location and layout of Fengshui, based on the theory of "the Eight Diagrams" and many preserved architectures dating back to the Ming & Qing Dynasties.The winding, twisting streets and lanes interlace in the village, ancient residences are arranged in orderly rows, making the village a maze where first-time visitors could easily get lost.Only with a professional guide, you could get the interesting and key part of Chengkan Village and avoid getting lost.
In addition to the intrigue of the architecture are a number of crystal-clear streams flowing through the village. The narrow, transparent streams glister, running slowly yet forever ahead.
Seventh stop:  Tangmo Ancient Village
Founded during the Tang Dynasty (618-907), the village developed steadily during the following dynasties .Upon your arrival there, you will be captivated by the quiet rural life style of this particular culture, and the natural beauty that is incorporated within this famous historic and cultural village.
The village has two lakes located near the east entrance. The small West Lake stands next to the smaller East Lake. The lakes were constructed by a rich inhabitant for his old mother, who intended to remind her of the beautiful lakes of Hangzhou.
It was really spiritual healing journey for me. These peaceful and beautiful Villages which are nearly untouched by the fury of modern world take all my tiredness and annoyance away. I will come again.
>> 4 Days Best Huangshan Tour with Hongcun & Xidi Ancient Villages
>> 3 Days Yellow Mountain Essential Tour
>> 4 Days Huangshan with Pig's Inn Carefree Countryside Idyll Tour
Want to know more about the experienced travel expert Catherine's trip? You could just contact her directly or continue to read more about her travelogues.